With the race on to replace Dennis Blair as Director of National Intelligence (DNI), President Obama is expect to nominate retired Gen. James Clapper, the Pentagon's current intelligence chief and a favorite of Defense Secretary Robert Gates, to the position.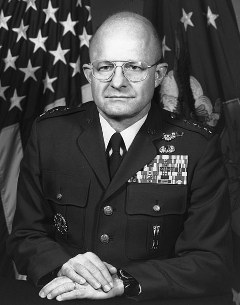 Gen. Clapper spent his career in the Air Force working in intelligence, and after his 2005 retirement he briefly served as Chief Operating Officer of military consultancy contrator DFI International, before his appointment as Under Secretary of Defense by President Bush in early 2007.
Sen. Bond (R – MO) criticized his appointment to the DNI position, saying that Clapper had fought previously to undermine Congressional efforts to give the position actual authority, and has approved of the job in only a vague manner, with very limited oversight over the defense intelligence agencies.
Though Gen. Clapper's nearly half century career in intelligence gives him considerable background in the field, there is concern that his position as the decided insider in the Pentagon will make him biased against the civilian intelligence agencies he is charged with overseeing.