Israel's Sunday night attack on a civilian medical aid ship, which left 19 people dead and dozens wounded, has sparked international outrage and brought renewed attention to the blockade, as carried out both by Israel and Gaza's other neighbor, Egypt.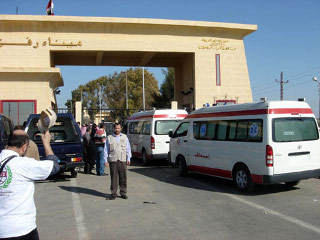 But while Israel has vowed that the blockade will remain in place Egypt has announced that it is opening its own border with the Gaza Strip every day from 9 am to 5 pm for an "unlimited" period of time.
Egypt has intermittantly opened the Rafah border crossing, usually prompting thousands of Gazans to pour into Sinai to buy food and other goods that would be impossible to obtain under the Israeli blockade.
Such openings are quickly met with Israeli outrage and demands to re-close the borders, which Egypt has generally done in a timely fashion. Egyptian officials have previously vowed that they will never permanently open the Gaza Strip without Israel's permission.
Ironically Israel has played Egyptian complicity in the aid blockade as a way to dodge criticism, claiming that aid groups unhappy with the Israeli blockade should complain to Egypt, who has roughly the same restrictions.