With a flotilla of aid ships bound for Gaza expected to reach the region sometime this weekend, Israeli officials are all set to take military action to prevent those aid workers from reaching the shore of the besieged strip.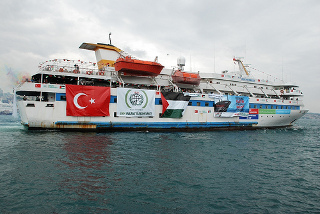 The Israeli Navy has planned to capture and seize all the vessels and detain the aid workers on board. They even have tents set up in advance for the mass processing of the aid workers, which incude a Nobel laureate, a Holocaust survivor, and several European MPs.
The planned attack on aid workers in international waters and the seizure of their cargo of medicine and building materials has taken on an air of shocking palatability in the mainstream of public discourse, with no real doubt that Israel's military will crush the aid workers by any means necessary and no real questioning of why.
Israel's list of banned goods is downright bizarre, and while officials claim no complete official list exists, the capricious banning of things like pencils and chocolate under its blanket ban on "luxury" items to the strip has stripped any pretense of legitimacy the blockade may once have enjoyed.
At this point, much of Israel's blockade seems downright mean-spirited, ensuring that things like ginger and coriander never reach the shores of the tiny enclave. But the flotilla's cargo isn't just barrels of cumin and sesame seeds, aiming to make Gaza's steady diet of rice, chickpeas and air strikes more palatable.
The bulk of the cargo, though no official list has been made public, seems to be building materials, long banned by Israel but badly needed since Israel's January 2009 invasion of the strip, which left many of the buildings in ruins with no material to repair them. Some Gazans have taken to rebuilding their homes out of mud since Israel feels things like wood and cement are simply too much of a "luxury." The remainder will be medicine that, while not actually banned, has only been allowed in in an extremely limited manner.
Somehow no question of the legitimacy of Israel's blockade is ever raised, and when Israeli officials let out the clarion call for European nations to foil the aid ships, though many nations didn't do so there was no real public discussion of it.
At the end of the day, Israel did manage to convince Cyprus to block the aid ships from gathering in its territorial waters, which will perhaps delay the confrontation by a few hours. Israeli officials have lauded Cyprus' move as "an ethical deed." As those officials order their military to seize medicine bound for the sick and building materials bound for the homeless, one wonders that anyone considers their estimation of what is ethical important at all.