As the US hypocrisy over angrily rejecting a third party enrichment deal with Iran that is materially identical to the deal they have been demanding Iran accept all along becomes painfully obvious, the State Department has turned to angrily railing against the "deficiencies" of the deal in an effort to sound cover up what amounts to an admission that they have never been pursuing diplomacy in good faith with Iran.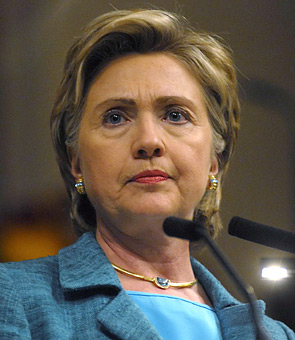 Secretary of State Hillary Clinton termed Iran's agreeing to US demands as a "transparent ploy" and claimed that Iran must be "held accountable" for accepting the deal.
Undersecretary Nicolas Burns took shots at Turkey and Brazil for successfully negotiating the deal, terming it "very unfortunate" and saying that it might well "give some members of the Security Council an excuse not to vote for sanctions."
The agreement would have Iran sending 1,200 kg of low enriched uranium abroad in return for eventually being returned a comparable amount of fuel for its Tehran Research Reactor, a medical isotope reactor that is running dangerously low on fuel.
Though this is the same amount and the same timeframe as the deal President Obama has claimed to be supporting all along, the US has been rejecting the deal from the moment Iran agreed. Once refusal was the excuse for Iran sanctions, but now it is acceptance.