With US envoy George Mitchell in the region for the second round of indirect peace talks, the Palestinian Authority has reportedly made a surprisingly bold opening offer, including major new land concessions.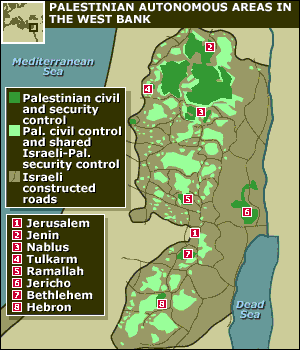 "We are not going to waste Mitchell's time," noted Palestine's top negotiator, Saeb Erekat, "we want Mr. Mitchell to succeed because his success is our freedom."
Mahmoud Abbas confirmed that the offer was made, but said that no deal had yet been reached and the exact details of the amount of land involved hasn't been settled.
Everyone seems quite impressed with the Palestinian offer, except for the Netanyahu government which has reacted with skepticism. Officials have reportedly said they believe the Palestinians intentionally made the offer overly generous to underscore that Netanyahu has no intention of reaching any deal with them, regardless of the terms.
Indeed, Netanyahu's response to the offer so far has been a non-response, and a demand that the Palestinians stop supporting the international boycott against Israel. Still, the gauntlet has been laid down on the peace talks, and the Netanyahu government will likely be under pressure soon to respond, one way or another.