The Zardari government, constantly under fire for allegations of corruption, took a major hit today when Interior Minister Rehman Malik's past convictions by the National Accountability Bureau were upheld.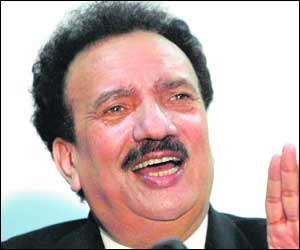 The Lahore High Court determined that since the Pakistan Supreme Court ruled the National Reconciliation Ordinance (NRO) unconstitutional, Malik's convictions were still in effect, and the outstanding arrest warrants against him were still valid.
Malik's lawyer says there is no chance the Interior Minister will actually be arrested, and considering that in practice he is the nation's chief law enforcement officer, and would be responsible for having the order his own arrest, that will likely be the case in the short term.
But for President Zardari, who has been struggling with the corruption complaints of his own, having his Interior Minister flouting arrest warrants will certainly be another black eye, and will continue to provide evidence that the ruling party is defying the Supreme Court's ruling that they are not, in fact, above the law.
Each of the two NAB convictions against Malik, both for corruption, potentially carry 3 year prison terms. While the Lahore High Court said clemency was hypothetically possible, the fact that Malik refused to show up at the hearing probably will not play in his favor.