MIT Professor Noam Chomsky's speaking tour of the Middle East was cut short today, when Israeli border troops barred him from entering the West Bank by way of Jordan. Chomsky was scheduled to speak at Bir Zeit University in the West Bank on Monday.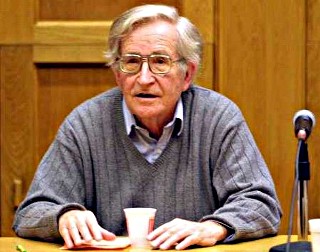 Israeli officials did not provide any specific reason for Chomsky's ban, but the Interior Ministry suggested that once it was revealed that Chomsky only intended to visit the occupied West Bank and not Israel itself they contacted the military to try to get the ban rescinded.
According to Chomsky the border guards told him the Israeli government "doesn't like the kind of things I say." The 82-year-old, a self-described anarchist, says he told them no governments like anything he says.
Chomsky and his late wife briefly lived in Israel on a kibbutz in 1953, and the professor has given numerous lectures at Israeli universities over the years. Chomsky has often criticized Israel's foreign policy and its treatment of the Palestinians.
The Palestinian MP who invited him slammed the banning as "suppression of freedom of expression," while a Kadima MP, Otniel Schneller, praised the move, saying that if Chomsky wanted to enter he should "try one of the tunnels connecting Gaza and Egypt," tunnels which have been repeatedly targeted by Israeli air strikes.