Pakistani forces launched multiple attacks in the Orakzai Agency today, hitting "suspected militant hideouts" in several towns and leaving at least 60 suspects dead, with another 45 wounded.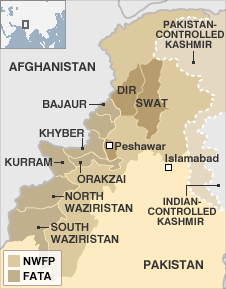 There was limited combat, with most of the attacks coming in the form of air strikes against compounds, but at least five members of security forces were reported wounded.
Pakistani military spokesmen reported all the targeted compounds destroyed and claimed "informants" on the ground had confirmed every single person killed was a "terrorist."
Pakistan's latest Orakzai invasion begin in March, and the military claims to have killed over 700 insurgents, though with journalists all but barred from the region the identities of those slain is difficult to conclusively prove. Hundreds of thousands of civilians have been driven from their homes in the offensive.
The Orakzai invasion came on the heels of the South Waziristan invasion, after officials began to speculate that the paucity of militant leaders being killed or captured was because they had all moved to Orakzai. Despite the current offensives, gaudy death toll, few if any major militant leaders have been confirmed killed here, either.