Shortly after Thailand's military announced its latest plans to chase of the thousands of "Red Shirt" rebels which have been protesting in Bangkok for months, Gen. Khattiya Sawatdiphol, a Red Shirt supporter who had become the de facto security head for the protest movement, was shot in the head.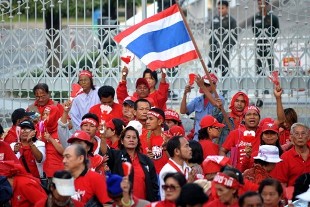 Gen. Sawatdiphol was giving an interview to the New York Times at the time, and was shot by an apparent sniper. He is said to be on life support in the hospital.
It is unclear who was responsible for the attack, but it sparked massive clashes between the protesters and the Thai military, and the deployment of armored vehicles to surround the protesters points to growing concerns that the military may attempt to violently put an end to the demonstrations.
These protests are just the latest in a string of protests that underscore the growing divisions in Thai society. In 2008 protests managed to oust the Somchai government, which was replaced by the current Abhisit government. The Red Shirt protesters are supporters of Thaksin Shinawatra, and are generally in favor of Somchai as well.