In the time since his arrest last night, an enormous amount of information has emerged about the Pakistani-born Faisal Shahzad, a 30 year old who had only last year become a naturalized citizen of the United States and now faces a charge of attempting to use a weapon of mass destruction.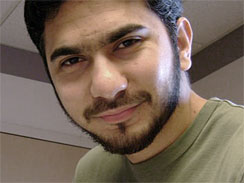 Neighbors described the Shelton, Connecticut man as a "quiet family man," living in a house with his wife and two children. He had an MBA from the University of Bridgeport and had been working as a financial analyst until last year.
The son of one of the top members of Pakistan's Air Force, retired Vice Air Marshall Baharul Haq, Shahzad had never been seen to have shown any particular interest in any religious or political faction in Pakistan, and the only thing anyone in the US seems to know about is his opposition to the Iraq War.
Perhaps the only indication at all that his life was anything but ordinary was that his home was being foreclosed on. After his real estate agent had failed to sell the property, which he still owed a large sum on, Shahzad told him to let the bank repossess it and said he intended to return to Pakistan.
Shahzad had been in Pakistan for months, but somewhere between then and now he returned, bought a 1993 Nissan Pathfinder for $1,300 cash and, according to officials, attempted to use it in a high profile terror attack in Times Square.
Once just another middle class MBA, Shahzad now is the topic of conversation in the halls of power, with Sen. Joe Lieberman (I – CT) demanding that he lose his citizenship and Sen. John McCain (R – AZ) cautioning the administration that Shahzad had better not receive his Miranda rights.