The realities of Iran's civilian nuclear program appear far less important to the question of sanctions than the diplomatic landscape, but a recent attempt by Iran to court all 15 members of the UN Security Council so far appears to have accomplished little.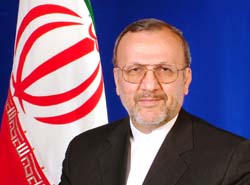 Uganda, a country without a clear position on the sanctions, continues to have what is being called a noncommittal position. Austria, a country generally in favor of the sanctions, remains so, and has demanded a "clear change of course" from Iran.
Iran's Foreign Minister Manouchehr Mottaki insists that the sanctions are "inappropriate" and added that the move should be based on logic and law instead of rhetoric.
But for many nations the insidious nature of Iran's nuclear program is a gut reaction, one decided months ago in the public sphere, independently of the questions of international law. Iran appears to retain some supporters, China, Brazil, Turkey and Lebanon most notably. The US has support among Western nations for the sanctions, and probably the majority of the votes, but China and potentially Russia could veto the sanctions, a fact which has kept the measure stagnant for months.