ABC's "The View" is hardly the place one would expect to find breaking foreign policy news, but it was today as Vice President Joe Biden sought to assure the show's viewers that Israel wasn't about to attack Iran.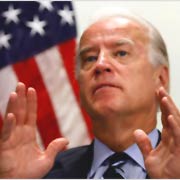 "They're not going to do that," insisted Biden, adding that Israel had already agreed to hold off on such an attack until they see what affect the next round of sanctions in the UN Security Council will have.
Biden, as with every other official in the Obama Administration, insisted that the sanctions were a sure thing, and that the Security Council would move forward with them by the end of the month, or early next month at the latest.
Yet there have been no indications that Russia has backed off its opposition to the more onerous portions of the sanctions, and no indications that China has changed its general opposition at all.
It mustn't be forgotten, after all, that the Obama Administration has promised sanctions 'in a matter of weeks' since Christmas, and has repeatedly underestimated the opposition in the Security Council to such measures.