Despite reports earlier in the day that additional investigation was almost a certainty, the US military's Central Command (Centcom) insists that it has no plans at all to reopen the investigation into the July 12, 2007 massacre of several Iraqi civilians in New Baghdad.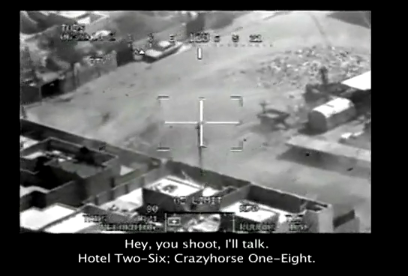 The initial statement from the military at the time of the incident claimed that troops were engaged in "combat operations against a hostile force," but the leak of a classified video by Wikileaks earlier this week clearly shows the military helicopters attacking the group of Iraqis walking casually down the street, and none of them ever behaved in anything resembling a hostile manner or apparently even noticed that the attack on them was imminent.
The attack appeared to have killed around 12 people, including two employees of the Reuters news service. One of the employees was carrying a camera. Two children were also wounded when a van attempted to rescue the survivors of the initial attack. The behavior of the troops heard in the video as well as the comments made by some of them has raised serious questions about whether they were obeying the military's rules of engagement.
But Centcom Captain Jack Hanzik criticized the video for only showing a portion of the military's activity in Iraq during that day, and claimed that the attack was taken out of context. He claimed the people in the video "fit the description" of people engaged in combat earlier in the day. Centcom has declined to release their version of the video, claiming they "can't find it."