Yesterday's claims that the Chinese government had, after months of US cajoling, finally agreed to support sanctions against Iran appear to be premature, and China has reiterated its past position that diplomacy, not sanctions, should resolve the issue.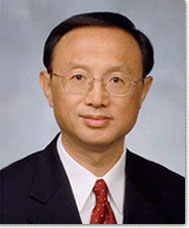 "We will strengthen communication with other parties and engage all parties to promote a proper resolution by diplomatic means," insisted Chinese foreign ministry spokesman Qin Gang.
Foreign Minister Yang Jiechi insisted that China's position had not changed at all, and he met today with Iran's top nuclear negotiator Saeed Jalili about the issue.
Russian officials also issued a statement saying that they supported "focused and selective" sanctions, which is largely in keeping with their previous statements in opposition to the broader package of "crippling" economic sanctions sought by the US.
Secretary of State Hillary Clinton claimed earlier this week that there was a "consensus" on the need for sanctions and claimed specifically that China had a "growing awareness" of the importance of the move.