Tensions with Israel continue to rise today, and according to Israeli Ambassador to the US Michael Oren relations between the two nations are at their lowest level since 1975, when the US was pressuring Israel to end the occupation of Sinai.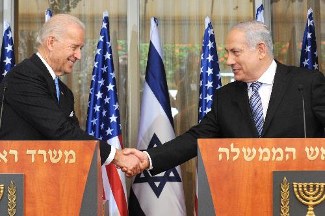 The anger coming from the Obama Administrations stems from last weeks official visit by Vice President Joe Biden. Meant to kick-start the indirect peace talks between Israel and the Palestinian Authority, the Israeli government announced a massive settlement expansion on the first day of Biden's visit, effectively destroying the peace process and leading the US to believe the move was a deliberate "insult."
The Palestinians have said they will return to the peace talks only if the Israeli government abandons the settlement expansion, which the Israeli government has already ruled out. The US has also demanded the building plan be canceled.
Israeli officials have repeatedly said this isn't going to happen, responding with only the requisite apology for hurting the administration's feelings. The State Department however is still insisting they want a "formal" response.
The demand is actually reminiscent of the Obama Administration's tack on Iran. After months of Iran making its position clear, the State Department continued to demand a "formal response" because they didn't get the answer they wanted. After several months the administration then sought more sanctions against Iran for its refusal to respond.
Though this comparison is likely only superficial, it does point to the Obama Administration's tendancy to only hear the responses it wants to hear. With the Netanyahu government unlikely to ever backtrack on settlements, this could spell a long-standing feud.