Secretary of Defense Robert Gates claimed yesterday that both the Saudi government and the United Arab Emirates had promised to use "economic leverage" against China until they agreed to the sanctions sought by the Obama Administration. The big problem is that nobody told the Saudis.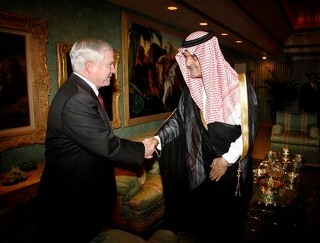 According to official statements in the Saudi state media, Secretary of Defense Robert Gates never even discussed the possibility of having the Saudi government exert economic pressure on China in an attempt to convince them to support sanctions against Iran.
The US has been pressuring China to accept the "crippling sanctions," warning they face international isolation if they refuse. China has so far called the Obama Administration's bluff and insists they remain opposed to the sanctions.
British Foreign Secretary David Miliband seems to be on board, however, saying he will pressure China during his upcoming visit to Shanghai. Miliband said he remains convinced China is afraid enough of isolation that they will eventually agree to the sanctions.