The Obama Administration was supposed to be flying high this week on news that the Israel-Palestinian peace process had finally been restarted in the form of indirect talks brokered by the United States. Even the Arab League was on board. It didn't work out that way.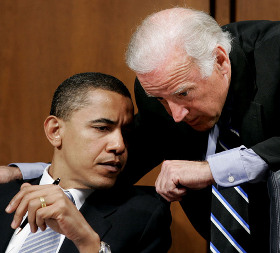 Instead, Vice President Biden wraps up his visit to Israel with a deep sense of personal humiliation and indications that the ties between the Obama Administration and the Israeli government are worsening, after Interior Minister Eli Yishai, a long-time critic of the peace process, single-handedly scuppered the peace talks with an announcement of another settlement expansion.
Biden has been predictably critical of the move, and President Obama has issued an "unequivocal" condemnation of the move. It cast a pall over Biden's visit with Palestinian President Mahmoud Abbas, and refocused his visit from one kick-starting the peace talks to one scrambling to try to rescue them.
The damage to the peace talks appears to be irreparable, however, and Israeli officials are unrepentant. Prime Minister Netanyahu would say only that the announcement was "ill-timed," while other officials insisted that the settlements would move forward as planned and that Israel would never make another conciliatory move toward the Palestinians.