China's Foreign Ministry warned again today about the possibility of worsening ties with the United States, slamming the Obama Administration for its plan to meet the Dalai Lama in a pending visit.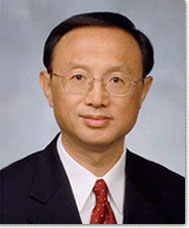 The Chinese spokesman cautioned that the US should "realize the high sensitivity of Tibet-related issues" The Dalai Lama visit is far from the only incident in recent weeks causing tension.
China is also furious at an Obama Administration plan to sell several billion dollars worth of weapons to Taiwan, a plan announced last week. There have been calls for boycotts of American arms companies in retaliation.
The United States has criticized China over a cyber attack on Google.cn. Google has threatened to leave the nation in response to the attack and the US State Department has condemned China's censorship of the internet.
All these incidents add up to a growing rift between the two nations, one which will almost certainly complicate administration attempts to push through sanctions against Iran. China has opposed the sanctions, and Secretary of State Hillary Clinton has threatened China with "isolation" over their reluctance. Though the US threat is likely an empty one, in the current tense environment it might push China further away from supporting new sanctions.