Following a flurry of international press activity this morning when Pakistan's state media declared Hakimullah Mehsud dead, the Pakistani Taliban has come forward to once again deny their leaders death.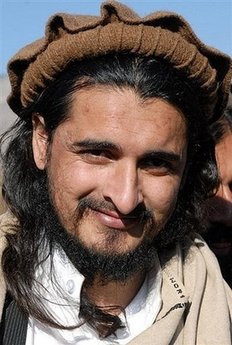 Hakimullah reportedly succumbed to alleged injuries suffered in a mid-January drone strike, and died in a hideout in Orakzai. Pakistan's military conceded they had no actual evidence of this, and were merely investigating the possibility.
But Pakistan's civilian government and US officials both cited unsubstantiated rumors as the source of Hakimullah's latest death, and expressed hope that the reports would pan out, giving support to the increasingly unpopular US drone program.
The reported death is Hakimullah's sixth in as many months. In early August he was reported killed by fellow Pakistani Taliban leader Wali Rehman, officials expressed confidence he was killed again in late August. Then he was reported slain in early September, only to reappear unharmed. This claim was followed by an October declaration by the US that they were "pretty clear that we think he's dead."
But he certainly wasn't dead, appearing in photos with former slayer Wali Rehman, who was also reportedly killed at least twice. The mid-January drone strike again left officials reasonably confident in his death, only for reports to emerge that he escaped either wholly unharmed or slightly injured. Though the paucity of reliable data from the tribal areas makes it impossible to rule out Hakimullah's latest death, his history of surviving such attacks suggests the latest announcement may have once again been hasty.