Seemingly already damaged beyond repair, the prospect for peace talks talk another hit today when Israeli Prime Minister Benjamin Netanyahu declared portions of the occupied West Bank "eternally" part of Israel.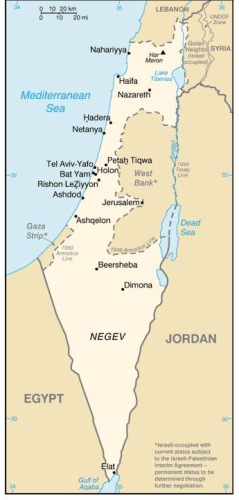 Attending a tree-planting ceremony in one of the settlements, Netanyahu proclaimed that "we are planting here, we will stay here, we will build here, this place will be an inseparable part of the state of Israel for eternity." He added that the settlements were part of "sovereign Jerusalem."
The settlements are built on land occupied by the Israeli military in 1967 and are not recognized as part of the nation. They lie near East Jerusalem, which was also occupied and is not generally recognized as part of Israel either, though Netanyahu insists that this too will remain part of the Israeli state.
The Palestinian Authority slammed the comments, saying they further undermined efforts by visiting US envoy George Mitchell to resume peace talks. Those talks already took a major hit last week when Prime Minister Netanyahu demanded that any hypothetical future Palestinian state allow an eternal Israeli military occupation and grant Israel practical control over its border with Jordan.
Though President Obama has seemingly given up on the peace process, declaring last week that it "is just really hard," Mitchell insisted that the US remained committed to a "viable" Palestinian state. Those promises of commitment are worth less and less as the rhetoric continues to worsen, and it seems the chances of an improved diplomatic situation are remote, at best.