In an in-depth interview with the Times of London gearing up for the London Conference on Afghanistan later this week, CENTCOM commander General David Petraeus again cautioned that the war was going to "get harder before it gets easier."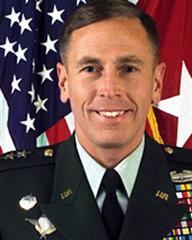 Likening the January 2007 surge in Iraq to President Obama's December escalation, the general said he thought that the war in Afghanistan was going to take longer than the war in Iraq.
Perhaps even more troubling over eight years after the war began, Gen. Petraeus insisted he still hasn't heard any talk of setting a timetable for the end of the war, and said any predictions would be "premature." Several nations had hoped to use the London Conference to set out some sort of exit strategy for the seemingly endless conflict.
In fact, Petraeus suggested that the London Conference would not so much focus on setting a timetable for a transition, but on deciding "what transition actually means." Though he provided little in the way of detail, it does suggest that officials have abandoned the pretense of starting the pullout in 2011.