Balochistan Chief Minister Nawab Aslam Raisani today accused Pakistan's military of setting up a "parallel government" in the province through the paramilitary Frontier Corps (FC), operating completely independent of the civilian government there.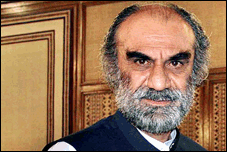 Raisani urged the federal government to take action over the situation, warning that the military was undermining efforts at a reconciliation process with the region's growing separatist movement.
The primary issue in recent days is the alleged Frontier Corps involvement in the killing of multiple student activists from the Baloch Students Organization (BSO) movement. The FC maintains that none of their forces were present at the rally.
The FC was originally created for border patrol and anti-smuggling operations, but has increasingly been playing a role in Pakistan's assorted military operations. The group receives about 20% of its funding from the US government in the form of military aid grants.