A new article by Scott Horton of Harper's magazine cites soldiers on the scene at the Camp Delta detention facility at Guantanamo Bay as casting serious doubt on the "suicides" of three detainees in early June of 2006.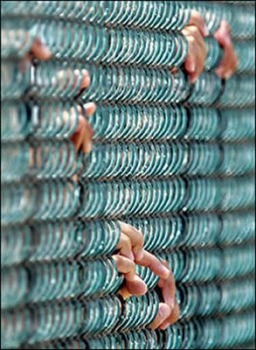 Though the official story has the three men hanging themselves in their cells as part of a plot to wage "assymetric warfare" on the United States by dying, the report suggests that the men may have actually died well outside the prison complex, at a secret CIA "black site" known colloquially as "Camp No."
The soldiers suggest the three actually had choked to death on rags during interrogation, and say they were told by camp commander Col. Bumgarner that even though everyone knew about the rags the official story would be that they hanged themselves to death. The colonel also reportedly warned the soldiers their communications were being monitored to make sure they didn't "undermine" the official report.
Col. Bumgarner was said to be "infuriated" by the story, while the Justice Department insisted that it had already closed its investigation into the incident and "found no evidence of wrongdoing."