NATO forces killed two more civilians today in a pair of shooting incidents. The deaths were the latest in a growing string of killings in Afghanistan.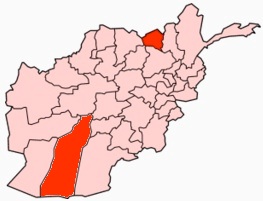 The first incident, in the Kunduz Province, saw German soldiers setting up a checkpoint which had traffic backed up. The soldiers opened fire on a carload of civilians, killing one and injuring another. German officials reported the car was "acting suspiciously," while provincial police said the car simply tried to drive around the checkpoint, apparently impatient with the long wait.
The second shooting happened in the Garmsir district of Helmand Province, the third incident there in less than a week. In this incident, a NATO convoy fired warning shots on a civilian vehicle because it "had no headlights." One of the civilians in the car was shot in the chest, and died later of his wounds.
The previous two incidents in Garmsir happened on Tuesday and Wednesday. In the Tuesday incident NATO forces opened fire on civilain protesters, killing 13. On Wednesday US Marines were deployed to police a protest organized against the Tuesday killing, and they shot and wounded five others.
The German incident might prove to be the more politically damaging, however, as the German public has grown increasingly opposed to the war since the September Kunduz air strike which killed scores of civilians.