As the fighting in Afghanistan's Helmand Province continues to pick up, US forces have killed 16 people described as "suspected militants" in a pair of drone strikes on opposite sides of the province.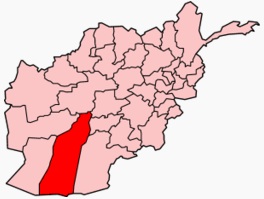 The larger of the attacks came in the town of Now Zad, once described as a "ghost town" by NATO and declared "liberated" in a December invasion. The US Predator Drone fired a Hellfire missile into what officials are describing as a "crowd of suspects" killing 13 and wounding three.
Exactly what made the reportedly unarmed crowd a "crowd of suspects" is unclear, but Marines that attacked the town at roughly the same time claim to have found ammunition and a "Taliban torture cell." US forces seemed quite pleased with the attack on the crowd, declaring "we caught them with their pants down."
A smaller attack claimed three others, whom officials described as "armed fighters." A separate incident in Helmand Province yesterday also claimed 13 civilians, when NATO and Afghan forces opened fire on protesters in Garmsir village.