At least 31 people, mostly police, were killed today and over 100 were wounded in a pair of bombings in the Iraqi city of Ramadi. The first bomb hit a checkpoint, and was following by a suicide bomber who hit the police who came during the aftermath.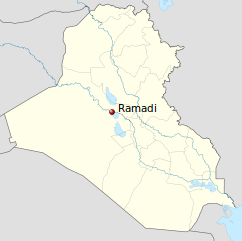 Anbar Province governor Qassim al-Fahdawi was among those who came to inpsect the aftermath, and he narrowly avoided being killed in the second blast, which killed the deputy police chief that was accompanying him. Fahdawi was injured and suffered serious burns, but is expected to survive.
In response to the bombing, officials have imposed a vehicle ban in central Ramadi and have also declared a curfew across the city until further notice. It is the first major bombing in Anbar Province in quite some time.
So far no group has claimed credit for the attacks. US Ambassador Christopher Hill condemned them and declared that they were design to "create chaos" in Iraq.