Senate Majority Leader Harry Reid (D-NV) vowed today that the Senate would tackle a new series of sanctions against the Iranian government as soon as they return from holiday recess in January.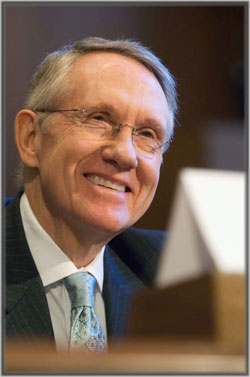 Sen. Reid
Sen. Reid termed the sanctions "an important piece of legislation" that would "help stop Iran from acquiring a nuclear weapon." The sanctions, already approved in the House of Representatives, would prevent Iran from importing gasoline.
Iran, meanwhile, says the end of the month "deadline" imposed by the US to abandon its nuclear program or accept the third party enrichment offer was meaningless, as they had already responded to the offer with a counter-offer to agree to the enrichment deal in return for an end to Western threats of invasion.
Despite repeated claims from US officials that Iran is on the path of creating nuclear weapons, the IAEA has repeatedly confirmed that it is not diverting its uranium to any military purpose and insists there is no evidence of any nuclear weapons program. Iran has been enriching uranium to 3.5% for use in energy production, but well short of the 90% needed to weaponize it.
Last 5 posts by Jason Ditz