NATO Secretary-General Anders Fogh Rasmussen's optimism for the nearly decade long Afghan War continued today, as he declared that 2010 would mark the start of "a new phase" and "new momentum" in the conflict.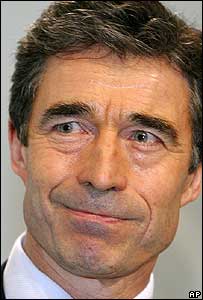 Anders Fogh Rasmussen
Rasmussen's only justification for that belief was that tens of thousands of additional troops would be added to the already 110,000 soldiers in the nation, and he believed this would "bring more security."
Yet a similar escalation in 2009, met with similar enthusiasm by international officials, was far from a success, bringing not security, but record violence. US military officials are already predicting that 2010 will break those records, chiefly as a result of the additional troops.
And even though Rasmussen seems to be predicting the latest escalation as a can't miss strategy, he coupled that enthusiasm with a promise that NATO would not set any deadline for leaving Afghanistan, warning that no pullout could happen until Afghanistan was able to "stand on its own." Recent comments from Afghan officials suggest this could take decades.