Another court has issued charges against Pakistani Interior Minister Rehman Malik today, facing yet more charges of corruption in the wake of losing his legal immunity to such charges.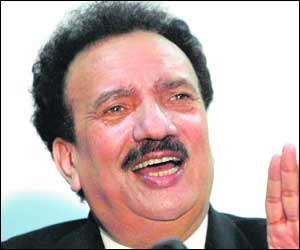 As was reported Friday, Malik is already out on bail on a myriad of charges, and his lawyer again maintained the minister is ready to appear in court whenever he is asked, praising him for his "bravery."
Pakistan's government continues to flounder in the face of a rising number of charges against key officials, and questions over the conduct of President Zardari, the only member of the government to keep his immunity.
Yet Malik insists the charges are no threat against the ruling PPP, claiming that only 10 cases of the 8,442 covered under the lost immunity law covered his party's membership. Since Malik himself is covered in several of those cases, as is President Zardari, and Defense Minister Mukhtar wasn't allowed to leave the country because he is facing charges, the claim seems incredibly unlike. Unless the nation's largest party just happened to appoint its only members accused of corruption to all the top cabinet positions.