Obama Administration officials are expressing confidence tonight that they will be able to push forward with a new flurry of economic sanctions against Iran in January to punish them for refusing to abandon their civilian nuclear program.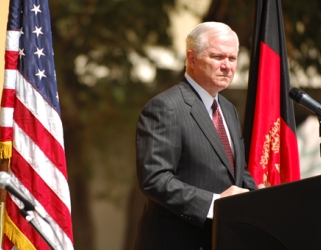 Secretary of Defense Robert Gates accused Iran of "stiffing" the international community in refusing to accept the third party enrichment deal and said it had paved the way for "significant additional sanctions."
Gates' comments came during a question and answer session with US troops in Kirkuk, when one asked him about attacking Iran. Gates insisted such attacks would "only buy some time, maybe two or three years."
Secretary of State Hillary Clinton said the administration had given Iran until the end of the month to accept "engagement" and likewise said she was confidence of international support for sanctions. Despite the claims of Iran's refusal to "engage," Iran actually participated in high profile talks in October and offered further talks, which were promptly rejected by Western leaders as a "stalling tactic."
The European Union appears to be on board for whatever sanctions the US decides on, saying it will support any moves for fresh sanctions against Iran in the UN Security Council. They also demanded that Iran "meet its obligations" in abandoning its civilian enrichment program.