Echoing comments from Secretary of State Hillary Clinton earlier this week, Secretary of Defense Robert Gates says that the US could begin withholding aid from Afghanistan over corruption.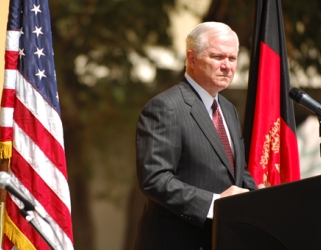 "The place to start is the place where we have the greatest leverage, and that's where we're writing the checks," Gates noted. Since the 2001 invasion, the US and international forces have pumped billions into largely fruitless development projects.
And in Afghanistan, money that isn't accounted for is a dangerous thing indeed, for it doesn't stay on the books for long. Afghanistan was recently ranked the second most corrupt nation on the planet, narrowly missing top honors behind Somalia.
At the same time with the US pumping ever increasing numbers of soldiers into the nation, it seems as though the threat to withhold civilian aid must almost certainly be an empty one, as the international forces must at least keep up the pretense of doing something productive in the nation.