Following weeks of intense debate in Iran's government, Foreign Minister Manochehr Mottaki says that the nation will not be accepting the draft third party enrichment deal as presently constituted.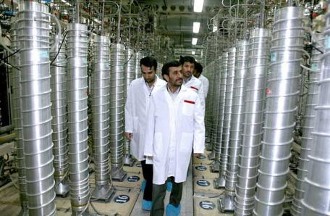 "We will definitely not send our 3.5-percent enriched uranium out of the country," Mottaki insisted, though he said the nation would still consider a simultaneous fuel swap, something Western officials have previously rejected.
The existing deal was hugely controversial inside Iran, some officials were in favor of it, including the Army Chief of Staff, but it seems that skepticism and international pressure to answer quickly finally won out.
Iran has been enriching uranium to 3.5 percent, for use in the Bushehr nuclear power plant, but had sought more highly enriched uranium for use in its Tehran medical reactor. Several officials had expressed concerns, however, that France was involved in the third party enrichment scheme. France had previously reneged on a nuclear deal with Iran and there was concern that Iran could lose 70 percent of its enriched uranium if France decided to just keep it.