Speaking in place of President Obama at the United Jewish Communities annual conference, White House Chief of Staff Rahm Emanuel urged Israel and the Palestinians to resume peace talks without preconditions.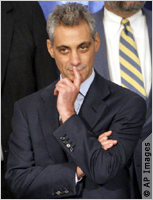 Rejecting calls by the Palestinians to link a halt of Israeli settlement expansion to peace talks, Emanuel insisted that the settlements shouldn't be allowed to be made a distraction from the goal of lasting peace.
The Obama Administration was also calling for a halt to settlement construction in spring, though it eventually abandoned this in the face of Israeli outrage. Secretary of State Hillary Clinton insists the US would still like the freeze, but in her most recent visit praised Israel for making an offer far short of the freeze.
Whatever the case, Emanuel sought to assure Israel's supporters that America will remain Israel's "one true friend" and that America's engagement with the Muslim world will never come at the expense of its support for Israel.