Faced with the prospect of the Palestinian Authority being formally dissolved because of his government's repeated threats to abandon peace talks and repeatedly ruling out demands, Israeli Prime Minister Benjamin Netanyahu is engaged in a bit of public relations to assure people how serious he is about the peace process.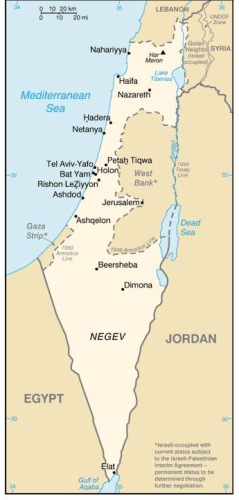 Not people in the Palestinian Authority, of course. Instead, Netanyahu was telling the press he would emphasize in a meeting with President Obama how "generous" he was prepared to be and how serious he was about peace.
He also called for PA President Mahmoud Abbas to return to peace talks. The call was made at a Jewish Federation conference in Washington DC. One can only assume Mr. Abbas was not in attendance.
Netanyahu sloganeering in a visit to the United States is unlikely to convince anyone in the West Bank of his sincerity, particularly without formal offers. As for the Palestinians, they appear to be growing less patient with a peace process which doesn't seem to be going anywhere, and in an organized protest activists tore down a chunk of an Israel-built wall surrounding a refugee camp. Israeli troops arrived on the scene and fired tear gas grenades at the crowd. This, it seems, is the more practical assessment of the state of peace between the two sides.