Several days after Pakistani Interior Minister Rehman Malik said the South Waziristan offensive would begin in the "next 24 hours," he insists that it will still be launched very soon.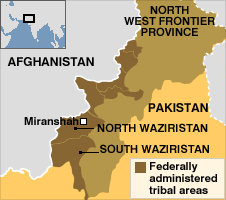 "These militants are the enemies of Islam and Pakistan," Malik declared, "we will defeat them and send them on the run." Malik has also promised that the military will show no mercy.
Today's bombings saw 15 homes along the Afghan border destroyed, followed by reports that a military convoy had come under attack from terrorists firing rockets, injuring at least two.
So far the militants appear to be the ones on the offensive, launching three extremely high profile attacks over the past week. Pakistani jets have continued to bomb South Waziristan Agency throughout all of this, but with the area firmly out of its control it is difficult to conclude how many of their bombings are actually hitting militants and how many are just hitting the local tribesmen.