Following official "alarm" from the United States at the Pakistani government's decision to abandon its summer offensive into South Waziristan, the Pakistani government appears poised to launch another offensive into the agency.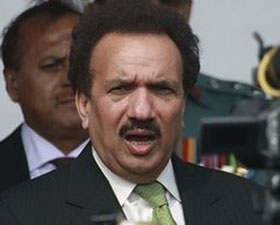 Interior Minister Rehman Malik says that the military's offensive will begin within the next few days, and claimed that following the "success" of the Swat Valley offensive people in the rest of the country are clamoring to see similar offensives.
The claims regarding civilian support for the offensives seem unlikely, as the Swat Valley attack annhiliated most of the region, displaced millions of civilians and months later is continuing to maim women and children who have returned to their homes to find a surprising number of land mines scattered about.
But the latest excuse for the offensive appears to be today's deadly bombing in Peshawar, which is nowhere near South Waziristan. Minister Malik now says the government has "no choice" but to launch the South Waziristan offensive in retaliation, though in reality the offensive has been in the offing for weeks prior to today's strike.