Speaking to reporters today in Baghdad, US Lieutenant General Frank Helmick cautioned that the Iraqi government's budget shortfalls were posing a major problem for the nation in trying to prepare for a poential US pullout.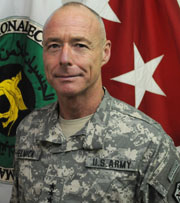 Ironically enough for a war which dramatically increased the price of oil across the world, the budget problems in Iraq are chiefly a consequence of the global economic downturn's deleterious effect on the price of oil, which has dropped precipitously from nearly $150 a barrel to around $70.
So amazingly enough, the US pullout strategy, nebulous though it is, may now be predicated on actually getting the price of oil to rise enough for the Iraqi government to fund its massive military expansion.
Iraqi officials had to revise their budget repeatedly over the course of the year as the price of oil dropped. Over 90% of the Iraqi government's revenues come from oil exports.