Denver shuttle bus driver Najibullah Zazi today pled not guilty in federal court. He is being charged with "conspiracy to use weapons of mass destruction" against unspecified targets and is being held without bail.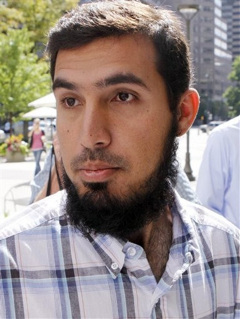 Zazi has denied any links to terrorism, but officials have said they assume he was planning to carry out some sort of massive attack against New York City on September 11. Zazi visited the city on September 10 and left on September 12, apparently related to his interest in a coffee cart business. He was arrested on the 19th.
Zazi's lawyer J. Michael Dowling cautioned against a rush to judgement, noting that so far the evidence he's seen against Zazi amounts to his visit to Pakistan and his purchase of several bottles of Clairol Clairoxide and nail polish remover, noting that none of this was actually illegal. Moreover, Dowling noted that none of Zazi's alleged co-conspirators have been named by officials, leaving in question how they can prove a conspiracy.
The charge referring to "weapons of mass destruction" may surprise some, considering how often the term has been bandied about in reference to nuclear and chemical weapons and Zazi's alleged explosive amounted to a relatively volatile mixture of off-the-shelf chemicals. Yet title 18 of the US criminal code defines Weapons of Mass Destruction extremely broadly, allowing literally anything which could be classified as a bomb to fit the description.
Last 5 posts by Jason Ditz