Last updated 9/30 2:10 PM EST
US drones have launched a flurry of attacks over the past 24 hours, one in South Waziristan and at least three others in North Waziristan in Pakistan's Federally Administered Tribal Areas (FATA), killing at least 18 people and injuring an unknown number of others.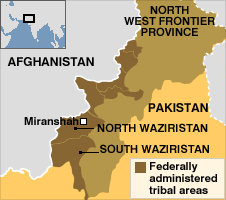 The first attack, in South Waziristan Agency, came against the home of a man believed to have ties to Hakimullah Mehsud, who depending on which Pakistani government official you believe was either killed in a clash with a rival member of the Tehreek-e Taliban Pakistan (TTP) or is the current leader of the TTP, having replaced Baitullah Mehsud. At least six were killed in the attack. Some of those killed were identified as Uzbek militants.
At least 12 others were killed in the second attack, when US drones fired at least four missiles on a home north of Miram Shah. Officials say all those killed in this attack were believed to be Afghans, and assume that they were in some way related to the Haqqani network. A third attack on a vehicle near Mir Ali killed eight, while the toll from a fourth attack was not readily available.
The latest attacks were the first since Friday, when a US drone attacked a compound also believed to be linked to the Haqqani faction. The US is reported threatening to escalate attacks across northern Pakistan, including potentially into the major city of Quetta.