Though he actually has very little direct influence over foreign policy, Israeli President Shimon Peres has often been at the forefront of Israel's long standing threats to launch a military attack against Iran. Peres has repeatedly compared his Iranian counterpart Mahmoud Ahmadinejad to Adolf Hitler, and has called Iran a threat to the entire world that "can be wiped off the map."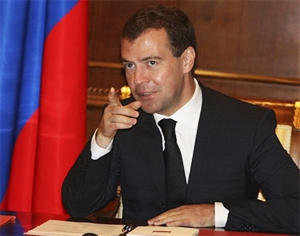 But in an interview broadcast earlier today on CNN's GPS program, Russian President Dmitry Medvedev says that he had spoken to Peres last month and the Israeli promised that his nation would not attack Iran.
Medvedev, who cautioned that an attack on Iran would be "the worst thing that can be imagined," said Peres had assured him Israel is "a peaceful country" that would never launch an attack on Iran. Medvedev said he trusted the comments.
The Russian president insisted, however, that his nation had every right to sell Iran the S-300 air defense system, and advanced defensive missile system Iran has long sought as a hedge against Israeli attack and which Israel has vehemently opposed being delivered to them.
Medvedev also cleared up the question of Netanyahu's secret visit earlier in the month, insisting that despite denials from Prime Minister Vladimir Putin ambiguous statements from Israeli officials that the Israeli prime minister indeed made a secret visit to the nation.