Speaking to McClatchy Newspapers today about the ongoing disputes relating to last month's Afghan presidential elections, opposition figure Abdullah Abdullah cautions that if Karzai gets a second five year term as a result of election fraud it will likely doom the eight year long US war.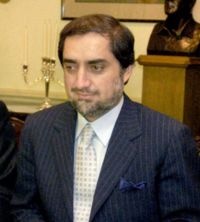 Noting that Western nations are already "paying to maintain this corrupt government," in an attempt to make their presence seem legitimate, Abdullah noted "it's not like Western governments can cheat their own populations forever."
Putting aside Abdullah's apparent underestimation of Western governments and their ability to cheat, the popular opinion is firmly against the war in virtually every nation involved in Afghanistan. If the Karzai-appointed Independent Election Commission is successful in ignoring the Election Complaints Commission's reports of massive fraud across the nation, it is likely to spark considerable dissent domestically and underscore just how badly the war is going to the international community.
But while Abdullah demands a run-off Karzai's supporters unsurprisingly see no need, and point to preliminary counts showing Karzai netting well over 50%, though with perhaps half a million phantom votes this lead could be narrowed in a recount. Karzai has accused the US of fueling reports of massive fraud and insists Abdullah is simply complaining because he lost.