Despite publicly rejecting Iran's diplomatic overtures as "not really responsive" just one day prior, the US State Department now says that the six parties (the US, Russia, China, Britain, France and Germany) have agreed to Iran's offer for "comprehensive, all-encompassing and constructive negotiations."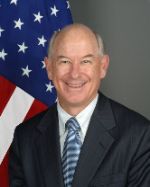 The US had previously sought to add additional UN sanctions on Iran for failing to meet a September "deadline" to offer talks, despite the fact that Iran said publicly that it was ready to talk on September 1. They said the offer was not acceptable because Iran didn't freeze the enrichment of uranium for civilian purposes.
However yesterday Russian Foreign Minister Sergei Lavrov said the offer Iran gave was something to work with, and that some of the points could be used as the basis for a broader deal. He added that Russia was now opposed to additional anti-Iran sanctions, which would have made it impossible for the US to push them through the United Nations Security Council.
With no hope of getting new international sanctions, State Department spokesman P.J. Crowley now says Iran's lack of willingness to suspend uranium enrichment is not a reason to refuse its offer of talks. Yet it seems likely that the Obama Administration, which has been reacting increasingly negatively to the prospect of talks with Iran, is at best an unwilling partner in the international talks.