Speaking on the eight-year anniversary of the September 11 terrorist attack, top US commander in Afghanistan General Stanley McChrystal says that he sees no indication of any large al-Qaeda presence in Afghanistan.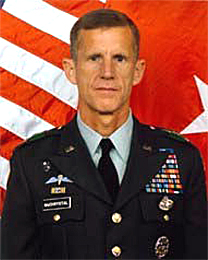 Gen. McChrystal's comments come at a time when the Obama Administration is facing an increasing revolt over the ongoing war in Afghanistan, and officials have used the "threat" posed by al-Qaeda as their primary justification for continuing the conflict.
Seemingly oblivious to having already dismissed the conflict's ostensible raison d'etre, the general continued to defend the war, maintaining that it was winnable given increased effort and insisting that, while he had no evidence to back it up, he "strongly believes" the war has prevented other terrorist attacks.
Gen. McChrystal has recently presented a "new" strategy for the war, roughly five months after the Obama Administration's previous "new" strategy involved a massive increase in the number of troops in the nation. It is widely expected that McChrystal will soon request another 20,000 troops for the war, on top of the previous escalation.