Top US commander in Iraq General Ray Odierno says that Iraqis have completely rejected al-Qaeda, and that "there will never be a caliphate in Iraq." He added that democracy had taken hold and al-Qaeda had been denied a stronghold in the nation.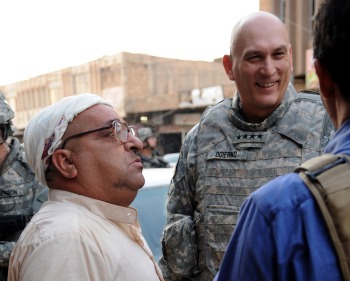 Yet Gen. Odierno also insisted that al-Qaeda remains a threat in the nation, accusing the group of being behind last month's major bombings in Baghdad. His second in command, General Charles Jacoby, said al-Qaeda was in fact to blame for "most" of the attacks in Iraq since the end of June.
Blame for the Baghdad bombings has been a matter of considerable speculation, though al-Qaeda has claimed responsibility for the attacks. The Iraqi government maintains that the Ba'athist remnants of the government ousted in the 2003 US invasion were actually to blame, and has even presented confessions to back this claim up.
It should be noted, however, that despite General Odierno's claims, violence in Iraq has actually risen significantly over the past several months. Al-Qaeda does not appear to have ever had significant political support inside Iraq, and though its presence has grown markedly since the US invasion it has never had any modicum of control over any part of Iraq.