Coming up on the eight year anniversary of the largest single terrorist attack on American soil, Osama bin Laden remains close to the headlines, as the Obama Administration uses the specter of the reclusive leader's al-Qaeda organization as the primary justification for continuing its war in Afghanistan.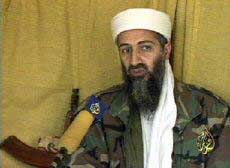 But as for bin Laden himself, he hasn't been heard from since June, and apart from a vague promise of a "present" for Muslims coming at some point during Ramadan, there appears to be no sign of him.
Eight years of war in Afghanistan have left the US no closer to capturing him, and officials continue to speculate that he is in Pakistan, though they appear to have no clue exactly where he might be found, and indeed most of the US drone attacks are targeting Paksitan's own domestic insurgency rather than foreign militants.
Bin Laden and his organization appear quite capable of launching attacks, and to the extent that perception remains he will likely continue to loom large in foreign policy discussions. At the same time, it seems that nearly a decade of American warfare focused at least ostensibly around him has done little good, and created many new problems across the world.