British Prime Minister Gordon Brown is again struggling to defend his nation's incredibly unpopular role in the Afghan war, following the abrupt resignation of MP Eric Joyce from a high ranking position in the nation's Defense Ministry.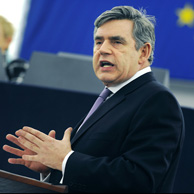 Joyce didn't just resign as one of the key aides to Defense Secretary Bob Ainsworth, he delivered a public dressing down of the Labor government over its mismanagement of the Afghan War, and said he didn't think the public, 69 percent of whom are already opposed to the war according to recent polls, would tolerate the excuse of terror risk much longer. He also called for an explicit time limit to Britain's role and criticized political attacks on soldiers who have complained about lack of equipment.
Brown publicly ruled out the time limit, and insisted that the risk of terrorism on the streets of Britain wasn't the only reason for the war, claiming it was about protecting the international community from the threat of terror as well.
The prime minister also tried, somewhat awkwardly, to address the criticism that he didn't present a clear picture of when the war would be won and when the troops could return. Brown insisted people would know the war was a success "when our troops are coming home." He gave no clue when this would happen.