The US State Department has announced today that it has asked Blackwater, which was banned by the Iraqi government earlier this year, to continue its operations in Iraq because the contractors for its replacement Dyncorp weren't ready to take over.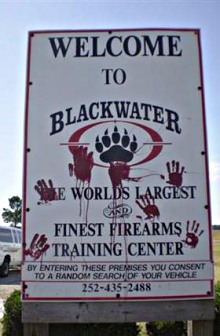 Blackwater contractors were implicated in charges of "improper conduct" related to their 2007 massacre of 17 civilians in Baghdad, leading to considerable outrage over their continued presence by the Iraqi government, which was finally able to ban them outright in January.
Despite the ban, the group has been operating without a license in Iraq on behalf of the State Department since then, though the Iraqi government has been impatient with the delay, it has ruled out a long term presence amid reports that the State Department had made arrangements for a replacement.
But now that replacement says that equipment shortages are keeping it from being able to do the job, leaving the infamous group, which has since changed its name to Xe in an attempt to rebrand itself as something other than a band of brutal mercenaries who play fast and loose with the rules of engagement, filling the role for an unknown period of time. It seems even a formal ban couldn't get rid of the organization.