Last updated 8/27 11 PM EST
A US Drone launched a missile attack against a suspected Tehreek-e Taliban Pakistan (TTP) hideout in Pakistan's South Waziristan Agency this afternoon, killing at least ten and wounding nine others. The targeted building, in the Kanigram area, was destroyed.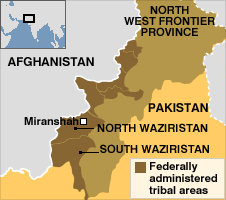 The attack is in roughly the same area as another strike on August 11, which destroyed another alleged hideout, though whether the 14 people they killed were militants or civilians remains a matter of conjecture.
This particular region of South Waziristan is under the control of high-ranking TTP member Wali Rehman, who most recently made headlines when he was reported killed in a clash with Hakimullah Mehsud over control of the organization. Both Rehman and Hakimullah, who was also reported killed in the "clash" emerged later to deny that they were dead or that any such clash had even taken place.
The number of US drone strikes in Pakistan has escalated dramatically in recent months, as has the death toll from them. The Pakistani government has cautioned that the civilian deaths in US attacks are undermining its own attempts at gaining control of the region, but privately they have been reported to back the attacks.