The Georgian government yesterday confirmed to the Agence-France Presse that it had captured two cargo ships in the Black Sea, which it accused of attempted to break their naval blockade by visiting the Republic of Abkhazia.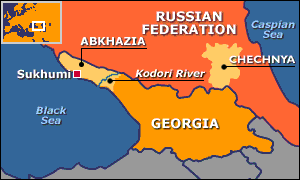 Abkhazia, predictably, was none to pleased with the capture of the ships: one a Turkish tanker delivering fuel and the other a Cambodian ship with a Syrian crew which was delivering scrap metal, and threatened a "proportionate response" against Georgia for the blockade.
Abkhazia declared independence from Georgia in July 1992, and has been enjoying de facto independence ever since, though that claim has never been recognized by Georgia. Following last year's brief Russo-Georgian War, the Russian government formally recognized Abkhazia's independence.
The Turkish company which sent the tanker said it doesn't intend to send any more, citing the risks from the Georgian authorities. The company had been making regular trips to Sukhumi for quite some time before the ship's capture.
Though the Georgian government seems primarily interested in exerting pressure on the Abkhaz government, which it has repeatedly condemned as illegitimate, the blockade seems likely to push the nation to rely further on trade with neighboring Russia, with which it has recently signed defense pacts.