Underscoring the continued tension between Iran's President Mahmoud Ahmadinejad and the nation's parliament, Vice Speaker Mohammad Reza Bahonar today cautioned that as many as five members of Ahmadinejad's proposed 21-man cabinet risked being rejected by parliament. He did not say which five, but such a loss would be a disaster for a president still trying to establish credibility in the face of June's disputed election.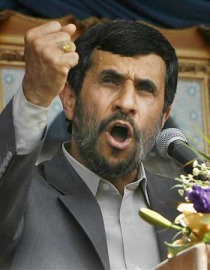 Ahmadinejad had also run afoul of parliament last month with his attempt to name long-time ally Esfiander Rahim Mashaei as First Vice President, and his subsequent dismissal of several members of his cabinet who opposed the appointment. Ahmadinejad reversed the dismissals after parliament threatened a no confidence vote that could have done serious harm to his hope of remaining in office.
The perception, at least among some parliamentarians, is that Ahmadinejad is attempting to stack his cabinet with loyal followers, but following the post-election violence and the Mashaei debauchle his collection of followers has gotten so small that many are not necessarily qualified for the posts he wants to give them. In particular his attempt to promote his commerice minister Massoud Mirkazemi to the key post of oil minister has raised some eyebrows, as Mirkazemi has no oil industry experience.
Ahmadinejad slammed Bahonar for the warning, asking how one person could speak for the entire parliament and claiming "we really tried to choose experts." Whether he succeeded seems to be another matter, but for now many in parliament would say he has not.